Dada Veda's CD reviewed by Michael Lohr.
Spiritually inspired, Globally-tinged Folk and Americana music is what you'll find on "Love Is The Best," Dada's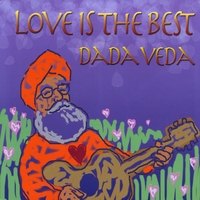 second album overall. He seamlessly melds the rhythms of rock, country and Americana folk with the ancient wisdom of Yoga, bringing together such disparate strains to create a remarkable, eclectic music collection. There's even a Bill Haley and the Comets-1950s style doo-wop song ~ which honestly is a bit of a surprise coming from an orange turban and robe wearing Yogic monk, but he performed this style of music flawlessly.

Overall "Love Is The Best" moves with a deeper spirit. Dada, much like Bob Dylan, U2, Johnny Cash or Bruce Springsteen, musically tackles topics that dominate our daily news, such as war and world peace, racism, economic and ecological issues as well as the need for open-minded spiritual discourse and real universal tolerance. Songs such as "From Zero To Hero," "A Better Deal" and "Liberate Your Mind" bring these subjects into perspective. Also included on the album are two kirtan meditative tracks that feature mantra chanting. These songs were specifically written to assist the listener with their meditative focus.

This record and Dada's music overall is a subtle work of simplistic beauty. I highly recommend "Love Is The Best." But I would also suggest his first CD, "Brighter Than The Sun" – recorded in 2003 in Albania. With its acoustic, country-folk melodies and spiritual sensibilities, it makes for an excellent accompaniment to "Love Is The Best." The radiant song "In The Stillness of the Morning" is worth the price alone.
Dada Veda's website is www.dadaveda.com 
reviewed by Michael Lohr
{mosgoogle}