New Renaissance Magazine is an online journal offering a holistic view of developments in the arts, science, culture, society,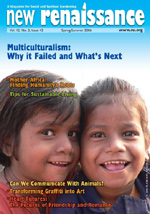 politics, spirituality and lots more.
In December 1989 we published the first printed version of New Renaissance Magazine, working on a small A-4 printing press in Mainz, Germany and using ancient computers and the first desk top publishing programs.
Times have changed and now here is New Renaissance magazine in a completely online format. We published the print edition right up till 2005 but have now suspended the print edition in favor of putting everything online.  Take a look around and browse the categories or use the search feature to find what you need.
In case you are wondering, New Renaissance is published by Renaissance Universal (RU). RU is composed of individuals located around the world who are inspired by the social and spiritual philosophy of P.R. Sarkar. The aim of RU is to bring about a socially just and healthy human society. 
If you would like to contribute articles or have any questions, please contact us.